It's not often that insurance fully allows a physical therapy patient to reach 100% functionality.
Every therapist wants to see the continuum of care completed but, often, that work needs to be done alone or with the help of a Certified Post Rehab Specialist. Fitness1440 in Damascus is now working with several Physical Therapy and Orthopedic Centers to provide that continuum of care all the way to completion.
To get you through your injury and discomfort you have a team of like-minded individuals and we, at 1440, are simply a part of that team. Constant communication and feedback with your doctors and therapists are paramount in our program.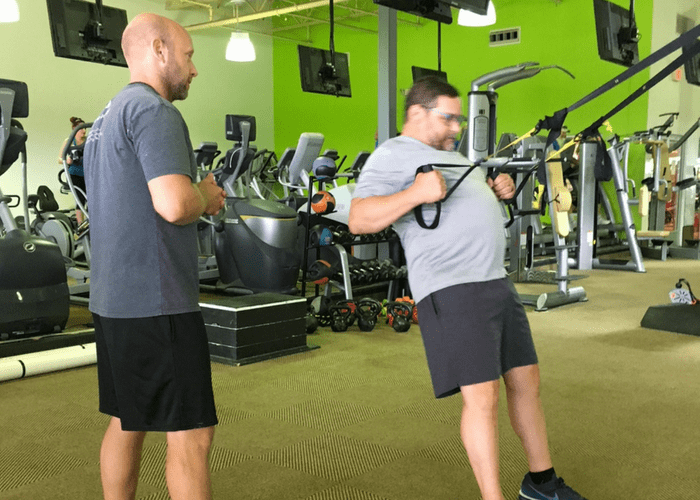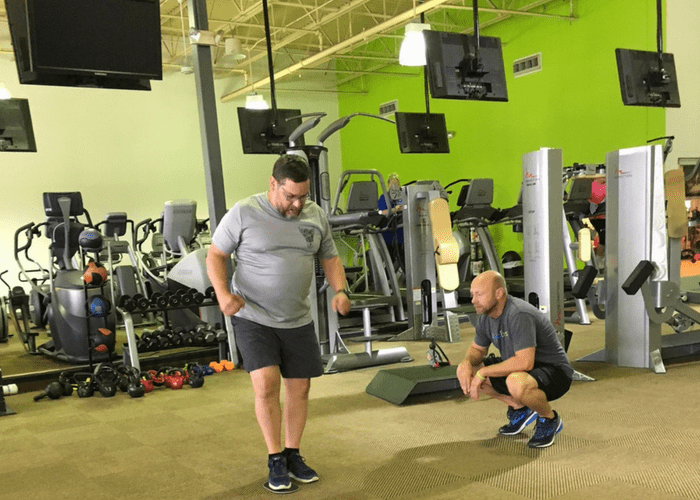 If you have been referred by a physical therapist or orthopedic specialist or just want to meet with a Fitness:1440 Physical Trainer to talk about a post-rehab or injury recovery program tailored specifically for you, submit your information below and we can set you up with a complimentary consultation to discuss what type of program would work for you.
Oops! We could not locate your form.
Post-Rehab Patients Who've Had Success with Fitness:1440 Training Programs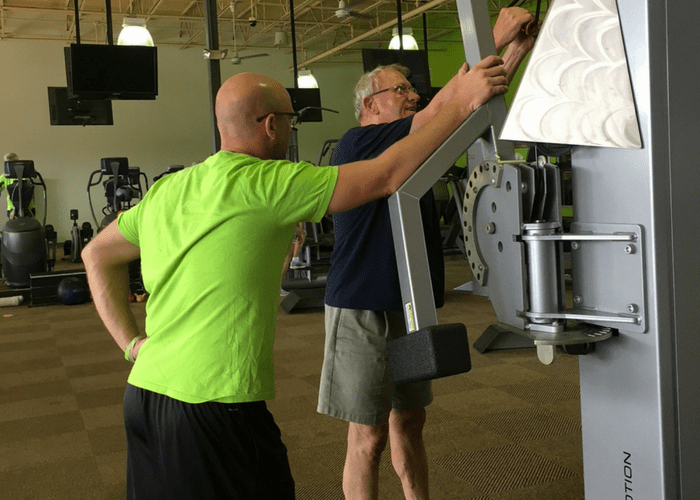 Cassie, Bi-lateral Pec Tendon Transfer Surgery
Cassie came to work with us after completing physical therapy following her Bi-lateral Pec Tendon Transfer surgery. Unable to lift more than a 1-2lbs in her arms at the time we focused upon foundational core strength and lower body strength and control while also giving attention to the small muscles surrounding the shoulder joint complex. For an extremely active person in her 20s this has been an inconvenience for sure but, undoubtedly, her efforts and persistence will pay off with the elimination of shoulder pain, greater joint stability, and strength.
Brian and Kailyn, Glassmacher Syndrome
These siblings are battling the effects of Glassmacher Syndrome which is very similar to Muscular Dystrophy. They are wheelchair bound and the result is significantly tighter joints, a loss in mobility and the strength deterioration that comes with the disease. Our focus here is different from many of our clients as the objective is to help them remain mobile as they age. The effects of exercise are profound when compared to someone who is not putting forth the same effort and our exercise selection is based on the ideals of enhancing the quality of life rather than being vanity related.
Chris
Chris is unique because his challenges are cognitive rather than physical.  The biochemical changes, as a result of consistent exercise, have improved how he feels and his overall capabilities.  He remains a great example of the broad spectrum of benefits that consistent and structured exercise can bring us.
Lana, Broken back and pelvis from Motorcycle Accident
Lana was in a motorcycle accident and suffered a broken back, fractured pelvis, and punctured lung along with other injuries. Her rehab was, understandably, focused upon regaining her mobility at least to the point preceding the accident and the overall intent quickly became developing a stronger foundation to pursue other interests. In a short period immediately following her release from physical therapy we saw both her confidence AND competence grow as she overcame each successive hurdle.
Jennifer, Post- PT Guidance and Continued Training
Jennifer has come to us looking for a post-physical therapy guidance. Her goals are to gain stamina, strength, and overall health. Refusing to let chronic pain, arthritis in her lower back, and a hip replacement in her twenties to keep her down, she stayed as healthy and active as possible. A series of medical setbacks in recent years resulted in periods of rapid weight gain due to disease, medications, and forced inactivity along with other medical issues. She is now in her fifties, morbidly obese, unable to walk without the use of a cane or walker and then only for short distances, and is unable to stand for even two minutes. She has a wheelchair which she tries hard not to use. We will focus on strengthening her core and working her large muscle groups to start. In just the couple of weeks that she has been working with us, she has grown in confidence in herself and in the steps she takes.
provides the best gyms and 24 hour fitness centers across the US. For over a decade we've put our gym members on the path toward becoming a healthier, fitter you! Our gym services include personal training, group exercise, cardio, group training, and more. Our mission is to help you meet your health and fitness goals.
Copyright © 2023 FITNESS:1440™ | Powered by FITNESS:1440™
Copyright © 2023 FITNESS:1440™ | Powered by FITNESS:1440™