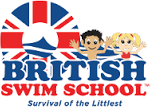 At British Swim School, we pride ourselves teaching safety, water survival skills, building independence and confidence in the water. Our mission is that everyone regardless of age or ability has the opportunity to become a safe and happy swimmer!
For this reason we have our program set up so that instructors and students both have fun while learning. We teach students of all ages from three months old to adult lessons. Our program is 35 years old, we are just new to this area! Classes are filling up fast! For more information, please check out our website below or call us at
770-927-8900
. We look forward to swimming with you!
 For More Information and registration
Click Here For Video