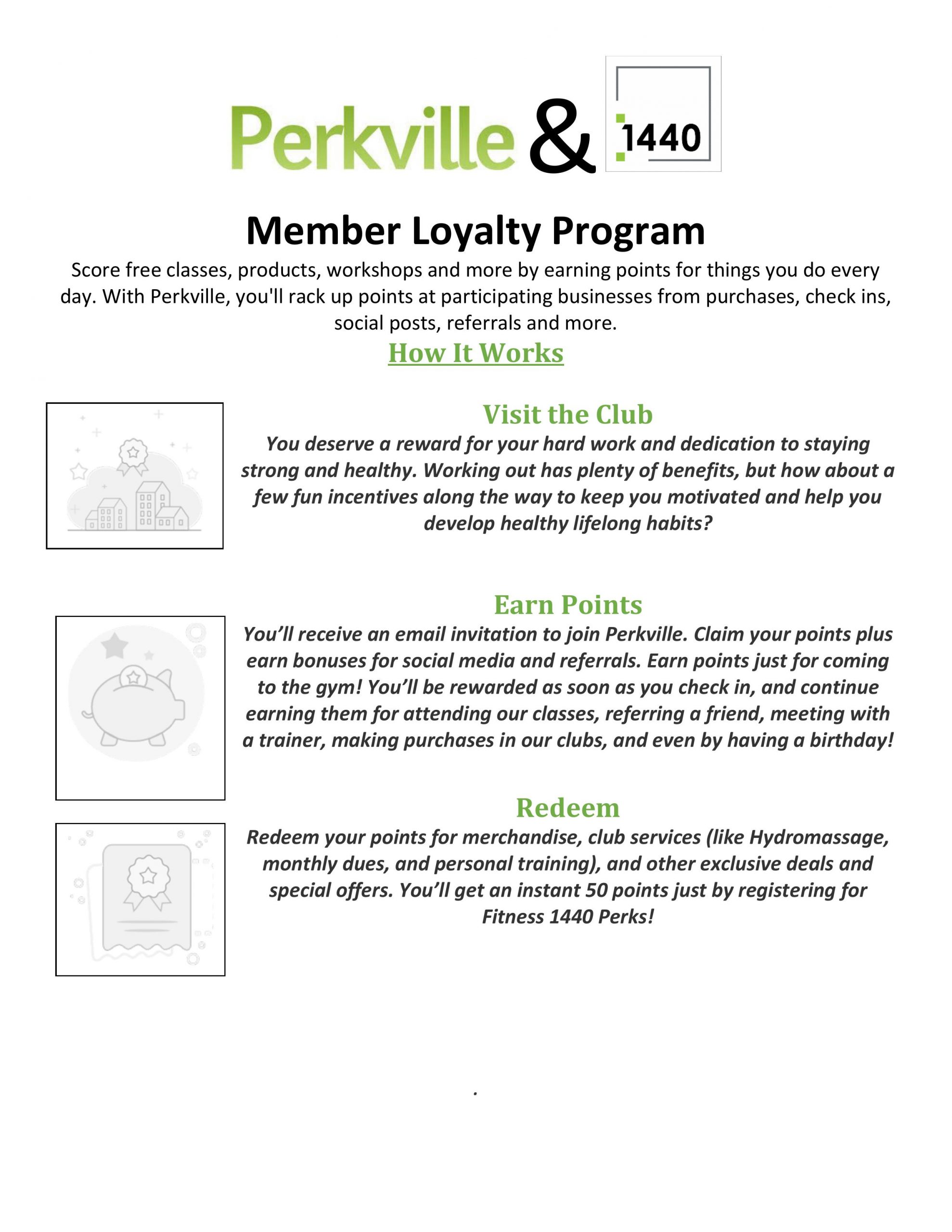 Perkville FAQ's
Who or what is Perkville?
Perkville is our technology partner that provides the platform for the rewards program. Perkville is used at more than 2000 locations worldwide, and has more than 2,000,000 end users.
How does the FITNESS 1440 Rewards program work?
It's simple, you earn points for activities related to our business. Such as attending classes, referring clients, making retail purchases, reviewing us on Yelp, or talking about us on social media. Once you have accumulated points you can begin redeeming rewards. You can't lose with FITNESS 1440 rewards. Click here for a full list of earning activities and perks.
How do I redeem points?
Sign in to your Perkville account, Click Redeem and select the perk you want. Show the business your voucher via printout or phone to redeem your perk.
How do I refer new clients to FITNESS 1440 with Perkville?
From the Perkville site click the "Refer a friend link", and submit your friend's email as a referral. Then your friend visits FITNESS 1440 and earns points using the same email address that you used to refer them. You are automatically rewarded for the referral.
How does social media sharing work?
Earn points at FITNESS 1440 to get the opportunity to post. Log in to Perkville.com and connect your Facebook and/or Twitter accounts. Enter what you want to say in the social media box. Click "Post and Earn" to get points.
6. How do I earn points?
Points are tracked using the email address you have on file with us. Earn points by completing eligible activities at FITNESS 1440. For example, class attendance, appointments, social media post, referring friends, Online reviews like Yelp or Google, and more.