Working out and eating healthy go hand in hand. For many of us, eating healthy can seem more daunting than going to the gym every day. Unfortunately, if you continue to eat a diet high in sugar and carbs than reaching your fitness goals will be nearly impossible.
Weekly meal planning can help you eat healthy meals to get the nutrients that help you reach your fitness goals.
First off, let's get on the same page for what meal planning is:
Meal planning is prepping your meals at the beginning of the week. The meals are then put in containers which can be easily brought to work or used as dinner.
How is meal prepping beneficial?
We often miss many of the nutrients that we need in our diet. Meal planning allows us to prep dishes that contains essential ingredients to build muscle and lose weight. We can also control calories. Improving our diet is essential to meeting our fitness goals.
Decide What Meals to Plan For
Many accomplishments are best completed in small steps. Begin your meal planning with lunch. This is a great way to ensure that you are obtaining the nutrients that you need to avoid snacking in the break room. Eating healthy at work will help you feel energized to complete a strong workout at the end of the day.
Find Healthy Recipes Online
Bored of the same old rice bowl? We would be also! Mix up your meal planning by using online resources. Try Beachbody's Vegan Habanero Chili or Curried Chicken with Couscous. Many blogs will also have the calorie count and nutrients listed.
Make the Grocery List
Grocery shopping are often spontaneous adventures. We buy what looks good rather than planning healthy meals. Find recipes before you go to the grocery store. This will help you spend less money and create meals that help you succeed in meeting your fitness goals.
Prep on Sunday
Designate an hour on Sunday night to prep your meals. Separate the meals in containers so they are easy to grab as you leave for work.
Instant Pots are also convenient to expedite meal prepping. You can cook rice, hard boil eggs, and cook meat.
Your fitness goals are attainable! Eat right and you could reach them faster. Try some of these healthy recipes for your meal planning regime.

Ingredients
Rice
3/4 cup uncooked brown rice
1/8 tsp salt
zest of 1 lime
Turkey
3/4 lb lean ground turkey
2 tablespoons taco seasoning of choice
Salsa
1 pint cherry tomatoes, quartered
1 jalapeno, minced
1/4 cup red onion, minced
juice from 1/2 a lime
1/8 tsp salt
Other
one 12 oz/341 mL can corn kernels, drained & rinsed
1/4 cup shredded cheese (cheddar or mozzarella)
Directions
Cook brown rice according to package directions, adding the lime zest and salt to the cooking water.
Cook turkey over medium heat, tossing in the taco seasoning and breaking it up as you cook. Cook for 10 or so minutes, until cooked through.
Combine all salsa ingredients and toss together.
To assemble lunch bowls: (I love these containers)
-1/4 portion of cooked rice (roughly ½ cup)
-1/2 cup corn kernels
-1/2 cup cooked taco meat
-1/4 portion of salsa (just over ½ cup)
Recipe Notes
Nutritional Information:
Calories 387 // Fat 10 g // Saturated Fat 3 g // Cholesterol 72 mg // Sodium 872 mg // Carbohydrate 52 g // Fiber 5 g // Sugars 9 g // Protein 23 g
---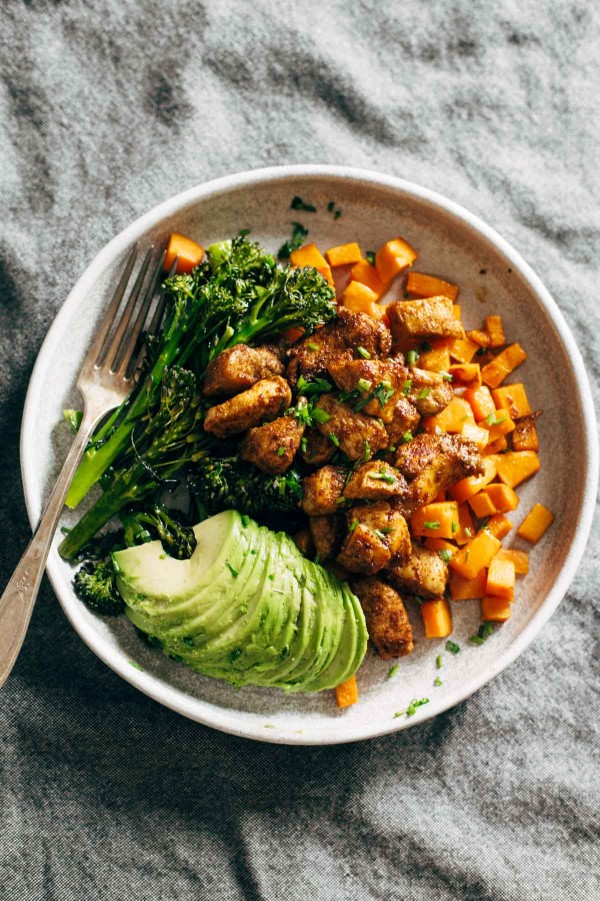 Ingredients
2 lbs. boneless skinless chicken breasts, cut into small pieces
3 tablespoons spicy seasoning mix*
a few tablespoons of olive oil
3 sweet potatoes, peeled and diced
5-6 cups broccoli florets (broccolini FTW)
coarse sea salt and freshly cracked pepper
avocado / hummus / lemon juice / chives / olive oil for serving
Instructions
Preheat the oven to 425 degrees. Toss the chicken pieces with the spices and a quick stream of olive oil. Stir to combine; store in the fridge for about 30 minutes while you prep other ingredients.
Arrange the vegetables on their own sheet pans (preferably ones with edges to catch drips, etc.). Drizzle with olive oil and sprinkle generously with salt. Arrange the chicken on a separate sheet pan.
Bake all ingredients for 12-15 minutes. Remove the broccoli and chicken. Stir sweet potatoes and roast another 15 minutes or so.
Done! Divide your servings out into containers and be happy you have meal starters ready for the week!
Recipe Notes
Nutritional Facts:
Calories 22 // Total Fat 4.9g // 
Cholesterol 82.7mg // 
Sodium 326.9mg // 
Total Carbohydrate 15.3g // 
Sugars 3.3g // 
Protein 28g